Our Vision
We want our guests to be the central focus and concentrate our efforts on creating an experience with meticulous attention to confectionery details, techniques, and ingredients that delivers the best possible product. Our team is dedicated to making sure that every detail counts - from the look of the store to where we source our ingredients to continuous training for our team. We want our guests to taste great chocolate and wine, but we also want to take them on a journey they may remember from childhood and forgotten or to a place they haven't been before.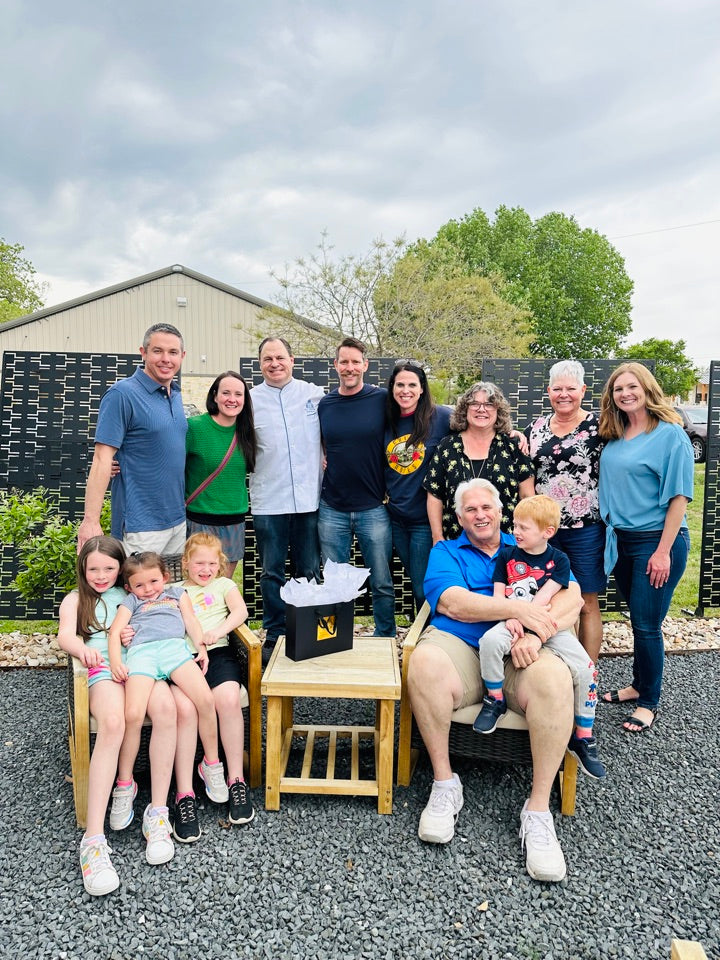 Dan McCoy, Chocolatier
Make people happy.
That was the business plan and vision of our combined brands when we started this journey in the Texas Hill Country. By using great ingredients and building a great team we strive to create amazing familiar flavors, but also surprise you with something you may have never tasted before.
Dan has been creating chocolate confections for over two decades. Born in north central Texas, he attended Tarleton State University and The University of Texas Southwestern Medical School to become a dermatologist. He practiced medicine in Corsicana and at the Baylor University Medical Center in Dallas where he specialized in melanoma and psoriasis. Ten years ago he accepted a position at Blue Cross and Blue Shield of Texas, stepping down as President of the company two years ago. Dan relocated full-time to Fredericksburg where he consults on corporate strategy and is the Founder and CEO of Rockettools.io - and makes chocolate and wine.
Our Team
Making chocolate and confections is a team sport and we have an amazing group of people that work to create and extraordinary experience for our guests and customers.
Melanie Bopp is one of our chocolatiers but also manages our overall product and retail operation. She has over two decades of experience in the restaurant and hospitality industry and is best known as the owner and baker of Twisted Sister Bake Shop in Fredericksburg.
Brenda, Bethany, Miguel, and Marissa do everything - from packaging chocolates, shipping wine, or taking amazing care of our customers and guests in our Retail and Online Store.
Amanda Praytor manages human resources as well as our accounting and government reporting. Her attention to detail keeps our trains running on time.
Brixon supports our social media including Facebook, Instagram, Youtube, and our Blog.
Sammie is our Sous Chef and Factory Manager. He supervises the overall production of many of our favorite products like our famous Almond Butter Toffee and Artisanal Bonbons. With 20 years of experience in the food manufacturing business, Sammy is just plain amazing.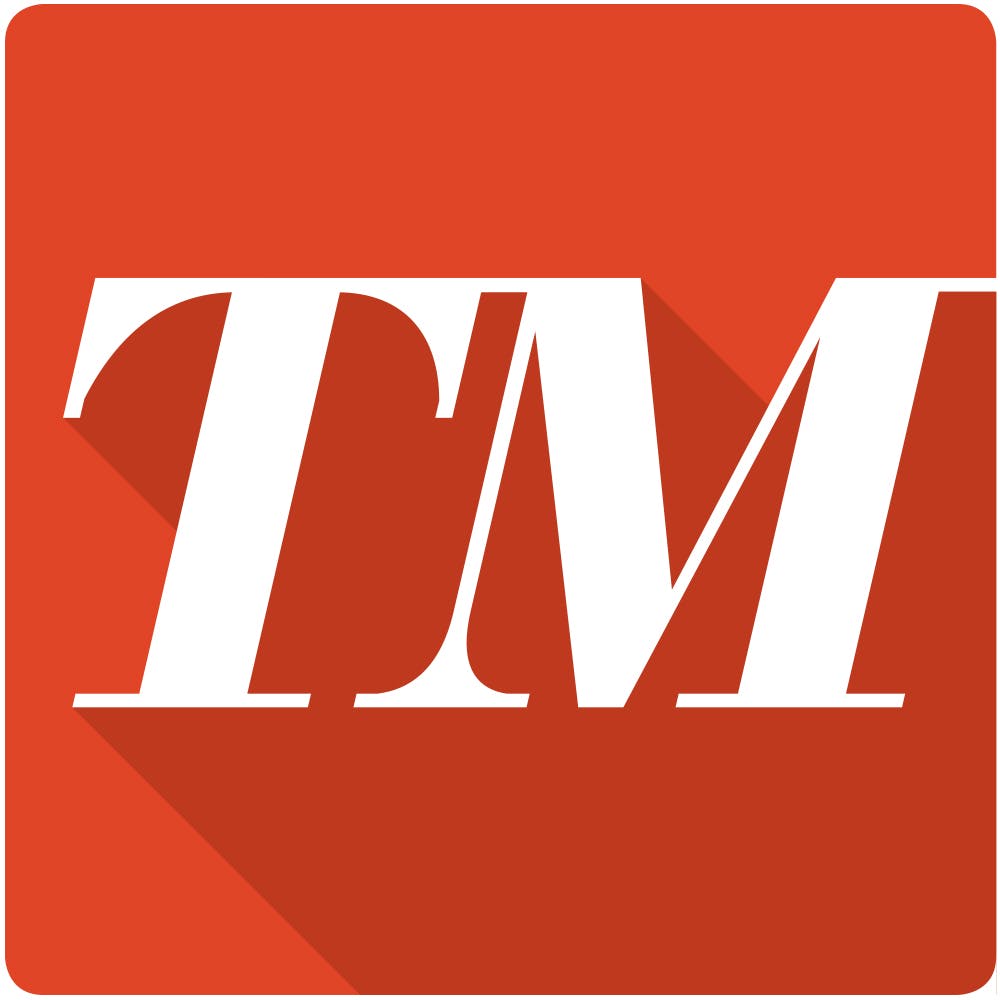 TEXAS MONTHLY
Go Ahead, Enjoy Truffles and Wine, Says the Doctor Owner of Hill Country Chocolate
READ MORE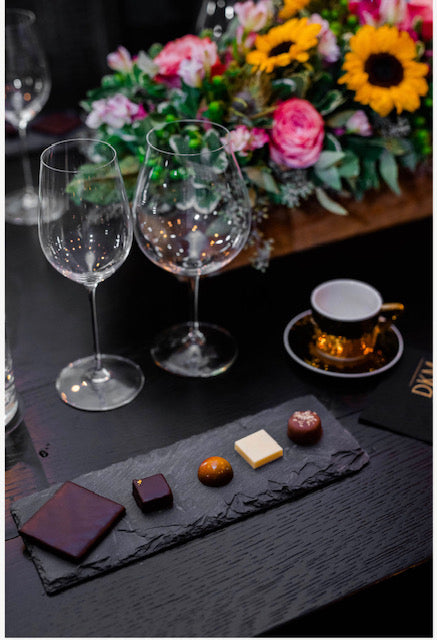 Hill Country Chocolate Experiences
Experience chocolate in the Texas Hill Country with Hill Country Chocolate's unparalleled immersive events. Indulge in our renowned Premiere Wine & Chocolate Experience, a one-of-a-kind tasting experience that has garnered praise in Texas Monthly and D Magazine. Led by our expert chocolatiers, this exclusive tasting event brings together the exquisite flavors and origins of wine and chocolate. Guests gather in our elegant upstairs tasting room, where wine and a delectable charcuterie board featuring brittles, chocolate, and our renowned cocoa nib covered goat cheese await. Throughout the approximately 90-minute experience, you'll not only be treated to DKM Cellars' finest wines but also be guided through the mesmerizing chocolate-making process on our factory floor. But the magic doesn't stop there – we have more to entice your senses! Explore the captivating art of bonbons in our hands-on masterclass, or immerse yourself in a 3-D Chocolate Artistry Workshop, crafting delightful molded chocolates. Reserve your spot at Hill Country Chocolate today and let your taste buds embark on an unforgettable journey amid the breathtaking landscapes of Fredericksburg, Texas.
Reservations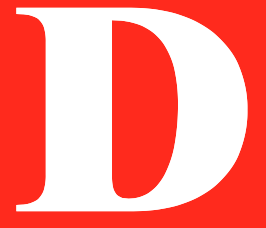 D Magazine
The North Texas Health Insurance President Who Became a Hill Country Chocolatier
READ MORE
A word about allergies
Hill Country Chocolate products contain, may have been in contact with, or made on equipment shared with soy, milk, wheat, eggs, peanuts, and tree nuts. We recommend you take necessary precautions based on any related allergens.